What are the types of Student Visas for the UK?
Check out the information regarding UK visas
Student Visas For The UK
Hundreds of thousands of international students flock to the UK to pursue their higher education every year. The UK is a very popular destination for these students since it has an excellent higher education system, numerous prestigious institutions, a diverse population, along with a rich cultural & historical background.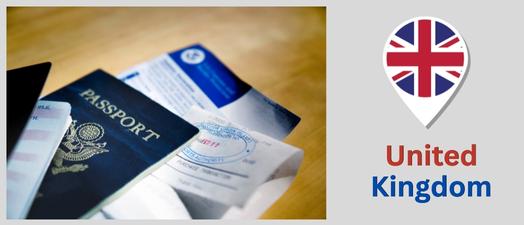 Different types of UK Study Visa
There are mainly three types of student visas in the UK -
Tier 4: General Visa -
Students above the age of 16 years who wish to pursue a course in the UK and for more than 6 months have to apply for the tier 4 visa, i.e., the General UK Student Visa. The duration of this particular visa is for 1 year, and an additional grace period of a month is also granted.
Tier 4: Child Visa -
This type of student visa is for students aged 14-17 years who want to study in the UK.
Short-Term Visa -
Students over the age of 16 years who wish to pursue a course in the UK for less than a year, go for this kind of visa. Its validity ranges from 6 to 11 months, depending on the course duration.
Process for UK Student Visa -
Once you get admission from a university in the UK and finalize which university you want to go to, the university will issue a CAS (Confirmation of Studies), once you provide them proof of finance for tuition fees and a tuition fee deposit if applicable. This letter must present a CAS number.
Step 1:-
Visit the official British Government website, and apply for your student visa. Here is the link for the said website - https://www.gov.uk/
Step 2:-
Take the medical test (TB) from the approved clinic list only. https://www.gov.uk/tb-test-visa/countries-where-you-need-a-tb-test-to-enter-the-Mk
Step 3:-
Fill out the online application form.
Step 4:-
Pay the Health Insurance & Visa Application fee online.
Step 5:-
Submit the online application
Step 6:-
Book the Visa submission date.
Step 7:-
Submit all your documents & passport at Visa application centers (VACs).
Step 8:-
Receive the entry visa. A UK student visa takes a processing time of about 3 to 4 weeks.
Submit the form and we'll get in touch in the next 24 hours
Point-Based-System
Once you are eligible to apply for a UK student visa, you will need to earn 40 points to get the visa. You will have to earn these said points based upon your work experience, relevant academic & work experience, University acceptance letter, English language proficiency results, and your financial documents. But getting these points isn't that difficult since the university confirmation letter accounts for 30 points, and relevant financial documents add up another 10 points.
Documents required for Student Visa
An admit letter has the Confirmation of Acceptance of Studies (CAS) number displayed on it

English Language Proficiency test scorecard

Accurate Financial Documents

Valid Passport

Medical test results

Recent passport-sized photograph

Visa Application form and the Application fee
You'll also have to collect your Biometric Residence Permit (BRP) within 10 days of your arrival in the country. A Biometric Residence Permit is used to confirm your identity, right to study and right to any public services or benefits that you might be entitled to.
Your Biometric Residence Permit (BRP) includes the following things -
Your name, date and place of birth
Your fingerprints and your photo (face only)
Your immigration status and conditions of your stay
Whether you can access public funds, e.g., benefits and health services.