What are the types of Student Visas for Sweden?
Check out the information regarding Canadian visas
Student Visas For The Sweden
To stay and study in Sweden for more than 3 months, you'll need a residence permit before arriving in Sweden.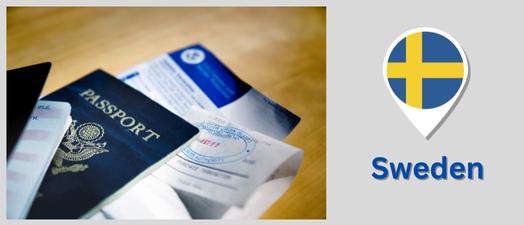 Requirements to obtain a Swedish residence permit
Be accepted to a full-time study program at a university or university college that requires you to be present on campus (Letter of Admission)
Pay your first tuition fee installment.
Hold a valid passport.
Be able to support yourself financially while you are studying over there.
Have a comprehensive insurance policy
Being able to support yourself
For applications received by the Migration Agency on 1st January 2018 and later, the maintenance requirement is at least SEK 8,190 per month.
Submit the form and we'll get in touch in the next 24 hours
Steps to apply for Visa
Application for Swedish Visa is made by Swedish Visa Application Center (VACs) operated by VFS Global Services Private Limited in 8 locations - New Delhi, Mumbai, Hyderabad, Pune, Chennai, Bangalore, Kolkata, and Ahmedabad under the jurisdiction specified. All applications are assessed by The Embassy of Sweden, located in New Delhi.

Applicants can submit their visa application at the VACs without any prior appointment for the submission of the documents.

Processing time for the visa usually takes around 12 to 15 working days.

You can Track your Application by sending an SMS to the VISA SE passport number 57333. There is no need to follow up with the Swedish Embassy or the Call Center to check the visa status.
Documents required French Student Visa application
Receipt of Residence Permit application fee

Valid Passport

Letter of Acceptance from the University

Proof of Comprehensive Medical Insurance Coverage

A bank statement showing you can financially support yourself.
Medical Insurance
All the applicants who apply for a visa will be required to have overseas travel medical insurance, which will be valid for all the Schengen countries. The insurance has to cover the applicant for at least 30,000 Euros or equivalent for all risks such as - accident, illness, medical emergency evacuation, repatriation, etc. The policy also has to specify the period of validity and cover the entire trip duration, including the date of arrival and departure.