What are the types of Student Visas for Germany?
Check out the information regarding Canadian visas
Student Visas For Germany
Any student on a German Student Visa can work up to 20 hours per week during the academic term. And during the vacations, the students can work full time too.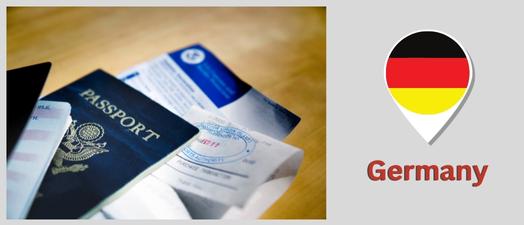 Steps to apply for German Visa
Get your Letter of Admission from the German University you want to study in.

Make the initial tuition payment (as required by the University). Get a copy of the payment receipt.

Create a blocked account & Insurance

Prepare the required finances.

Fill out the visa application form.

Book a VAC (Visa Application Center) Appointment via VFS (Visa Facilitation Services).

Submit all the required documents to VAC.

Once your visa is approved, pay the remaining tuition fee and inform the University about the same. (as required by the University)
Documents required to apply for a German Student Visa
Valid passport

Application form

A declaration that states that the information provided by you is genuine

A cover letter

Letter of admission by the University in Germany

Attested academic documents

Attested English language proficiency scorecards (German language test scores too, if required.)
Submit the form and we'll get in touch in the next 24 hours
Blocked Account
A blocked account is needed to deposit the money required to prove financial ability for studying in Germany. You have to create this account whilst applying for a student visa in Germany. The amount in the blocked account is used to manage accommodation, living expenses, and traveling costs. Deutsche Bank, Kotak Mahindra & other banks also provide the blocked account facility, but it can take up to 6 to 10 days for the same.
We advise Fintiba for blocked account facility. It is only a 2 day process via them. They also provide Travel and Health Insurance coverage.
Steps to follow to create an account with Fintiba
Create a login id with Fintiba

Fill out the Personal Information

Upload Passport

Once approved, they provide their bank account and your IBAN details.

Transfer the funds

Receive Blocked Account Certificate (and Insurance details too, if availed.)
Documents required to open a blocked account in Germany
A prepaid fee to open the account

Application form

Valid passport

Admission letter from the University

A bank statement confirming that you have the required amount of money to open a blocked account
Cover Letter
A cover letter is a letter required for the German Student Visa application. It explains the exact purpose of the stay in the country. Through this letter, the authorities evaluate your intentions to enter the country and verify your credentials.