What are the types of Student Visas for the USA?
Check out the information regarding USA visas
Student Visas For The USA
The USA is one of the most popular choices for students who want to study abroad. With numerous universities & fields to study in along with countless job opportunities, the USA receives several applications for studies as well as for visas.
So if you have received admission from your dream university and now want to apply for a student visa, then the following are the different types of visas, along with the steps to apply for the same.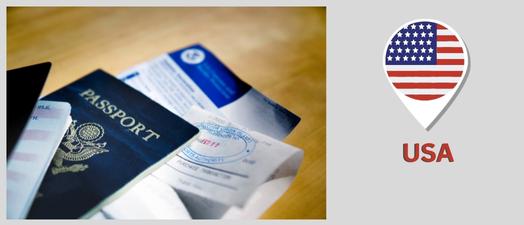 Different types of USA Study Visa
F1 Student Visa
If your course requires more than 18 hours of study in a week, then you need to apply for an F1 visa. These include undergraduate as well as graduate programs such as BS, MS, MBA, etc. Spouses or children accompanying F1 visa recipients must travel on an F2 visa. Spouses traveling on F2 visas cannot work in the States.
J1 Exchange Visitor Visa
This type of visa is for students, lecturers, or scholars who go to the States on an exchange program. It might include a 10-month research fellowship or vocational training, etc. Spouses or children accompanying J-1 visa holders can travel to the States on J2 visas.
M1 Vocational / Non - Academic Student Visa
This kind of visa is for students studying in vocational or technical schools. M1 visas are time-stamped, and these students cannot overstay beyond their visa validity.
Working on US Student Visa
Students can work for up to 20 hours per week during the academic term on a student visa. And during holidays, these students can even work up to 40 hours per week. However, these students cannot work off-campus during the first year of study.
Steps to get US Student Visa
Step 1:-
Receive your offer of acceptance from SEVP certified university or academic institution. Arrange your bank documents to justify that you have the required finances to receive your I-20 form. The university will mail you the I-20 form.
Step 2:-
Fill out your DS-160 form, an online visa application form filled out by nonmigrants.
Step 3:-
Pay your SEVIS fee through the SEVIS ID (Student and Exchange Visitor Information System ID) on your I-20 form through the portal to continue your visa application. Simultaneously, you have to create your account on US travel docs and pay the visa fees, i.e., Challan, by putting in the file number on your DS-160.
Step 4:-
Once the online application is done, schedule a visa interview & biometric appointment at a US embassy or consulate. Date availability for the same is scarce since there are only 5 US embassies or consulates in India. Carry all your documents for the interview, including your I-20 and DS-160 forms.
Step 5:-
Get your visa approved. The Visa officer will let you know the decision immediately after the interview. However, the stamp of approval on the visa takes about 2 to 3 business days. Once you receive your visa, you can fly to the States 1 month prior to your university start date.
Submit the form and we'll get in touch in the next 24 hours
Documents required for Student Visa
A valid passport that is valid 6 months beyond your stay period

A printed copy of the DS-160 form & Visa Challan

SEVIS Fee receipt

Interview appointment letter

I-20 Form sent by the selected university

Bank statements & other financial documents that justify that you can pay your tuition fees & living expenses

All academic documents & your entrance exams scorecards such as TOEFL / IELTS & GRE / GMAT / SAT etc.