What are the types of Student Visas for Australia?
Check out the information regarding Australia visas
Types of Student Visas in Australia
Subclass 500
This type of student visa is required to participate in an eligible course of study. This visa is for up to 5 years, and you can bring family members too with this kind of visa. On this visa, you are also allowed to work up to 40 hours per fortnight during the term, and during study breaks, one can work for unlimited hours.
Subclass 407
This visa is a temporary visa. On this visa, you can stay in Australia for up to 2 years. This visa is for a visit to Australia when you want to complete work-related training or a professional development training program.
The process to apply for an Australian Student Visa
Under the new SSVF (Simplified Student Visa Framework) guidelines, the student visa for Australia is completely online. Following are the steps to apply for the same
For the online application, one needs to create an account on ImmiAccount.
Then the applicant has to fill out the visa application online. Only the authorized agents can lodge the student visa applications on behalf of the student.
You can use your account to attach documents, fill in the passport details, put in your email id, etc. The account can also be used to check the progress & to track your visa application.
A unique number called Transaction Reference Number (TRN) is assigned to each online visa application, which is used to track and manage the visa application.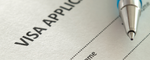 Submit the form and we'll get in touch in the next 24 hours
Below are the documents required for visa application
Letter of Offer - This is the document provided by the university - you got the admit from. It has information regarding your course details, enrolment conditions and program fees.

Confirmation of Enrolment (CoE) - This document is issued by the university once you have accepted their offer and paid the deposit amount.

Genuine Temporary Entrant (GTE) requirement - For this, you need to write a statement admitting that you are coming to Australia genuinely only to study and not for any other reason & also admitting that you will only be residing in Australia temporarily and won't overstay your visa.

All academic documents & your entrance exams scorecards such as TOEFL / IELTS & GRE / GMAT / SAT etc.

Proof of sufficient funds - To prove that you have enough funds to justify your stay in the country, including your tuition fees and living expenses. You will need to provide bank statements and proof of grants or scholarships etc.

Overseas Student Health Cover (OSHC) - Being an international student, you also need to have this health insurance cover for the duration of your stay in the country.

Medical Examination Certificate - You will need to undergo a medical health examination and provide a certificate confirming that you are in good health before entering the country.

Character requirement - In your visa application, you will have to write answers regarding your character and past conduct. In some cases, a police background check might also be required.